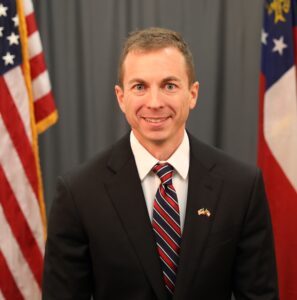 Senator Greg Dolezal (R- Alpharetta) joins Sen. Jason Anavitarte in adding to his week's Georgia Senate effort to provide non-mandated, discretionary state benefits to illegal aliens.
Illegal aliens renamed as "parolees" by Biden would qualify to collect and administer state funds in proposed new state benefit
Senator Greg Dolezal's just-dropped SB 233 would allow illegal aliens who have been illegally relabeled as "parolees" under Biden's illegal border parole scam to participate in "school choice" as both parents/guardians who oversee compliance and students who benefit from the new state benefit. This was intentionally camouflaged in the bill by referencing a code section that refers to Title 9 that includes parolees. Really.
Related: Twenty GOP states are challenging Biden's illegal border parole hustle in a Texas federal court – GA is not one of them
We have repeatedly pointed to and sent easy, workable draft language that explicitly limits "school choice" state benefit and payments to U.S. citizens and Lawful Permanent Residents (green card holders). In an attempt to educate and assist, we originally pointed to Georgia law OCGA 20-3-519.1 that included Title 9 guidelines as an example of the ability of legislators to exclude illegal aliens and made it clear it was an example only and would not work in K-12 "school choice" legislation.
I was consulted two days ago and I warned of this fact. You can see Title 9 eligibility guidelines and inclusions here.
Related: Only U.S. citizens and Lawful Permanent Residents (green card holders) should be allowed to apply for state benefits on "school choice"
All concerned should ask the official author about appropriations. Is the assumption that the budget will provide unlimited funding…or is it subject to appropriations. I think the latter.  Who gets left out when the funding runs out? Americans? Legal immigrants? Illegally designated "parolees?" Or is there a lottery to create random priorities?
"CBP statistics reveal that in FY 2022, Border Patrol released just fewer than 311,000 migrants it apprehended at the Southwest border on their own recognizance ("OR" without bond or other conditions) with a Notice to Appear (NTA), and released just over 338,000 others on "Parole+ATD"…"
Andrew Arthur, retired immigration judge and Resident Fellow inLaw and Policy at the Center for Immigration Studies, Washington, D.C. "How Long Does Biden's DHS Wait to Put Paroled Border Migrants into Removal Proceedings?" – Feb 11, 2023.
It looks like Biden illegal parolees (formerly known as illegal aliens) numbered about 380,000 since October 2021 to September, 2022. I'll try to cobble together numbers soon for the first 5 months of FY 2023.
Many of the paroled illegal aliens are here in Gov Brian Kemp's Georgia.
I estimate it will take about two days for the various and numerous corporate-funded open borders groups that enable these happy "new Georgians" to pass along the good news of coming private school education for their children and the children that have been sent to them by the Biden administration.
I repeat: I made this all clear to a silent designer of this bill Wednesday. The reply was that they wanted to hide the effort to (partially) exclude illegal aliens so as to preserve "the coalition." That reaction is quite similar to what we were told last year when a rushed and poorly written senate "school choice" bill (SB 601) went through and was eventually voted down on the floor.
The last senate attempt at school choice included a refusal to allow public comment in the last-minute single "hearing." Seems suspect that this gem is let out a week before Crossover Day (March 6).
Let's not hear much more about "Republican conservatives."
See also: "School choice" and illegal immigration in Georgia: A pro-enforcement look at SB 233
Updated Feb 23, 2:15 PM to change stat range on USBP figures above. Updated Feb 28, corrected estimate on number of parolees released.